Insurance fund:
$ 300
September 18, 2018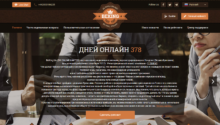 Greetings to you, my dear friends.
I hasten to inform you that I add to the blog one more "suitable project", By which, I advise, not to pass by or, at least to consider it with all seriousness.
I went into it yet 15 September, but still did not reach the hands of the review. Well, today, there is time and I am ready to share with you my impressions and express my opinion on this fund.