Insurance fund:
$ 200
March 20, 2019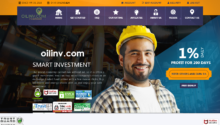 Good day!
I add one more low feeder to my blogwhich, in my humble opinion, will be of interest to a wide range of investors.
According to relevant sites, The project began to work 30.04.2018. At this stage, the fund "Oilinv" entered the second phase and began to appear on some investment blogs.
So, it's time to speak to me.