"Finance Advisory LTD" - SCAM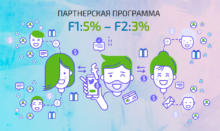 Greetings guys.
Add a new blog investment fund that launched 23.09.2019 and, quite possibly, will show a good result. Today, the development is going very smoothly, I would say, using "partisan methods", and, given marketing, you can work long and productively.
So, I offer you a short review of the fund "Finance Advisory LTD».
As I said, the project was launched recently. According to legend, the project "Finance Advisory LTD»Engaged in cryptocurrency mining with subsequent trading on specialized exchanges. Here's how the creators themselves say about the scope of the fund:
«Part of the company's revenue is generated by the extraction of digital currencies. Mining allows us to receive an additional amount of cryptocurrency, due to which FINANCE ADVISORY LTD provides itself with a safety margin even in case of unsuccessful trading sessions and is able to consistently pay profit to investors.

We have invested our own money in expensive mining equipment. Today, having traveled a long development path, the company has at its disposal the necessary production facilities for the integrated production of digital currencies.

At this stage of development, FINANCE ADVISORY LTD decided to attract external investments, which we will convert into the purchase of additional production facilities and will be able to increase the number of cryptocurrencies mined for the same period of time.

Also, additional investments will allow company traders to increase the number of ongoing trading transactions on cryptocurrency exchanges.

Thus, investors open up new opportunities for the company in the core market, while getting an excellent chance to invest in a profitable area and cooperate with a reliable company that guarantees timely accrual of profits and payments in the framework of long-term cooperation.»
The project site, of course, looks rather modest. I would say minimalism prevails here. Will the design change, I don't know, so for now there is what is. Although, as for me, the portal looks good even in this version. Also, the administrators took care of the registration of the project (certificate, UK)
In terms of technology, too, everything is quite decent:
| | |
| --- | --- |
| Domain: | Dynadot, LLC, 2019-09-20 - 2020-09-20 |
| Hosting: | Cloudflare, Inc |
| IP address: | 104.27.151.30 (live sites on IP: 1), 104.27.150.30 (live sites on IP: 27) |
| SSL: | CloudFlare Inc ECC CA-2 CloudFlare, valid: 20 Sep 2019 - 19 Sep 2020 |
| script: | not defined |
| Originality: | design: 0 | template: 0 |
Marketing "Finance Advisory LTD»Consists of a single tariff plan with a minimum deposit amount in 10 USD and a deposit term of operation in 150 days and a daily profit of 2%. As you can see, the total payout amount will be 300%, and the breakeven wait for 50 days.
In "Finance Advisory LTD»Investments are accepted in Payeer, Bitcoin, Litecoin, Ripple, Dogecoin and Tron. Payments from the project are made in manual mode (hours before 24) and the minimum for withdrawal is 7.5$
Affiliates program «Finance Advisory LTD»Two-level with income 5% - 3%. In general, the most common version of affiliate programs. An active deposit is not required.
User support «Finance Advisory LTD»Is available through the online assistant on the site and the ticket system. I have not found any groups or chats of the project on social networks yet, but maybe they will be added in the future.
To summarize. The project started recently, the plan is working and allows you to go in a gentle manner. For all this, in terms of profit, it's also pretty good 300% - this Finance Advisory LTDthreefold increase. If the administrator "Finance Advisory LTD"Will conduct a competent policy in development, then the chances of making a profit are quite high.
Bonus from me: refbek 7% (up to 03.10.2019) next 3%
[$10,$10000,1%,700%,700%];[03/10/2019,$10,$10000,1%,300%,300%]
Published: September 26, 2019 to 9: 15