Bitcoin
Bitcoin (Bitcoin) is a virtual, fully digital cryptocurrency, which is ideal for buying goods and paying for services on the Internet. Bitcoin is an international, decentralized currency. There is no definite state to which this currency would belong, which means that an intermediary between the seller and the buyer is excluded, and therefore the commission is excluded. There is no body that could control it and somehow use it for its own purposes. This currency does not depend on the price of gold, oil, etc.
Bitcoin uses a high level of encryption, and money itself is not stored in any particular account, which could easily freeze and leave you with nothing. Also absent and any restrictions on the transfer of funds.
In order to get started (get, post) with Bitcoinnuzhno make personal purse. This wallet is created in the network, but is stored as a file on your PC.
Purse Bitcoinpredstavlyaet consists of two parts: a digital file, which stores Bitcoins, and the client program that opens a file with Bitcoin, and lets you perform certain operations.
In our case, we recorded using blokcheyna.
Go to website https://blockchain.info/wallet/#/signup a page with the registration of a new user. Introduce an electronic box, and confirm a password. We put a tick in agreement with the rules of the system, and click "continue".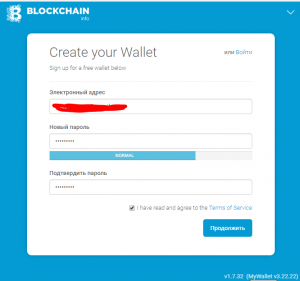 In the upper right corner you could see your ID. Click the button "Start". Registration is over. Now, using the e-wallet, you can receive and make payments, with no additional effort.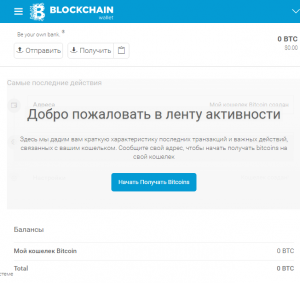 purse number you can get by clicking the "get."
Buy and sell Bitcoins, you can use heat exchangers and realizing, buying goods on the Internet.
Bitcoin - a revolution in the world of electronic payments 21 century.