October 10, 2019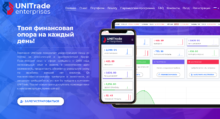 Greetings to all of you, my dear partners.
Recently, flipping through the ISP, I came across the project "UNITrade Enterprises"And stared. Of course, in the first place, I was attracted by the appearance. To my mind, the site is prepared very high quality, which immediately can be considered a plus in his karma.
Also the marketing and affiliate program are well built, which speaks of the not bad knowledge of the HYIP industry among the founders of the fund.
So, I decided to introduceUNITrade Enterprises"And you, my friends.