"Crypto Harbor" - we transfer to the TOP section.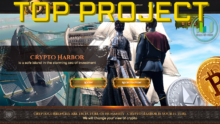 Greetings guys.
Well, the moment has come when it's time to give the honored honors to the project "Crypto harbor»And transfer it to the TOP section of the blog for services to investors.
Without excess modesty, we can say that today, the fund's work is quite effective, thpraise its admins (just not jinx it).
Below I will present a small report on the work of the project since its appearance on the blog.
On my investment portal the project "Crypto harbor"Appeared 28.06.2019so to speakfrom the start". And today, apparently, everything is still in the "partisan".
Investment offer "Crypto Harbor»Has a single tariff with a deposit life of 20 working days, daily profit of 1% and return of the deposit body at the end of the investment period. Total - 20% of net profit for the 1 circle. You can invest in Crypto Harbor in both Bitcoin and Perfect Money. The minimum deposit amount is 20 US dollars. Manual withdrawal, minimum payout amounts 0.001 BTC and $ 0.1.
Today, the project went 3 full circle, which, as you know, brought investors who came with me (+ week) more than 60% of net profit.
Why more than 60%? Because, the users of my blog know that you can always order a refback and increase your profit margin.
According to the dynamics of the contributions of my partners, I understand that "Crypto Harbor"Easily digests the maximum deposit amount (today it is 500 dollars), so, as they say:" take off my hat to the admins. "
I wish my partners only profits from working with the project.
Full review of the project "Crypto Harbor" here.
[$, $,%,%,%]; [, $, $,%,%,%]
Published: September 30, 2019 to 9: 56