EOS Trade is a developing medium-term.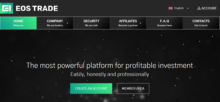 Hi everybody.
I want to introduce you a new investment fund that, in my opinion, deserves your attention. Today, this project is gradually expanding on thematic resources, after a period of partisanism and is working on updating the site, and, therefore, now is the most successful time for investment.
So, today I will consider "Eos trade"From all sides and I will try to describe as much as possible all the nuances of his work.
Start with the fact that "Eos trade» started (as a partisan) another 20.12.2018 and, as befits a true partisan, all this time he conducted quiet work with modest marketing. Recently, the project began to change tariff plans, pull a new design on the site and advertise on various blogs.
For some time I watched the formation of the site. Day after day, new functions appeared, the design adapted, texts were edited, EPS were added, and so on.. All this was done leisurely, but with a stable frequency, as on schedule. I think the existence of a clear development plan for the administrator is evidence of his competence. Some technical specifications also speak in favor of this. "Eos trade": licensed script, unique design, and greenbar.
There is only one language on the site today - English. But, the administration still has many plans for adapting the site and translating the portal into various languages ​​- one of them.
As for the legend, "Eos trade» Positions itself as a legally operating company (there is a certificate of registration in the UK), which is involved in the arbitration trading of cryptocurrencies. Having a clear strategy and its own work algorithms, the project team makes good money on this business and gives its investors the opportunity to profit with them.
And here about what specific profit can be received with "Eos trade»We will talk with you now.
As you can see, In the company, the investor is announced a choice of six tariff plans, but there is a slight nuance. Only three first plans are available for today. and in the picture you see only the maximum amount of profit for each of them, the final profit size depends on the amount of your deposit.
For clarity and ease of work for you, I have compiled a small marketing table.
| | | | |
| --- | --- | --- | --- |
| Deposit amount | Ultra Light (10 days) | Light (20 days) | Classic (30 days) |
| 20$ - 3000 $ | 1.2% | 1.4% | 1.6% |
| 3000 $ - 10000 $ | 1.4% | 1.6% | 2% |
| 10000 $ - 100000 $ | 2.2% | 2.6% | 3% |
So, as you understand, for most investors it is realistic to rely on net profit from the circle in the amount of 12%, 28% or 48% according to each tariff.
For payment systems, much more EPS is also announced than there are today. All of them are in development and will be gradually added (again, the right move), but for today, investments are available through Perfect Money, Payeer и Bitcoin. The project paysEos trade»Manually and the time limit for processing an application can reach 72 hours.
Affiliates program y «Eos trade»Three-level with a gradation of remuneration from first-level referrals, depending on the tariff plan to which your referral will make a deposit. Of course, you will receive the largest profit (for today) from the contributions of partners to the tariff plan "Classic». But, if you think about it, then referrals that will go through three rounds according to the minimum plan will bring 30% refk in 9 days, which is almost two times higher than the commission in the first version.
My account is still being "finished". They promise to fix minor bugs, new functionality and a couple more surprises. For user support, so far only mail and ticket system. Although, you can see that the place for social networks has already been prepared.
Concluding this article, I will say that "Eos trade» can show us a good result. The tariffs are balanced, the administration has development plans, the gradual appearance on blogs, the addition of tariff plans, EPS and new functions gives space and time for maneuver.
That is all I wanted to tell you.
But no) I forgot about the refback: until 25.09.2019 inclusive, it will be 15%, after this date 7%
[$10,$2000,1%,1500%,1500%];[25/09/2019,$10,$2000,1%,700%,700%]
Published: September 10, 2019 to 8: 58