"Limpid Capital" - partisans for the future!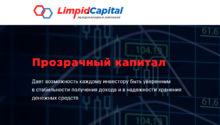 Hello everyone, my dear partners.
I want to introduce you to one of the newcomers to my blog, which I take at the partisan stage, with the prospect of a long and good job. The project "Limpid capital"Promotes a confident and experienced administrator who is well versed in the aspects of the HYIP industry, so I decided that"sin to pass by».
In this article briefly go through the main characteristics project "Limpid capital».
So, the foundation "Limpid capital»March this year and smoothly, evenly fills the information space on various investment blogs and HYIP monitors. He has nowhere to rush, so at this stage of rapid development is not expected.
According to legend, this company is A team of experienced players in the financial sector, which uses the funds of their investors in the most profitable sectors today: cryptocurrency investments, trading on the Forex market and sports betting. In general, I do not see the point of developing the theme of the project legend. Everything is ordinary here, I would even say traditionally.
About the site "Limpid capital"You don't have to say too much, because partisans tend to change their design when they switch to the active phase. Although, as a rule, this happens a little differently: from the template design of the Gold Coders script to its unique design. Here we see fully formed look, with literate and understandable texts, colorful design and simple functionality. In any case, there will be a change of design or not, to work with the site "Limpid capital»Easy and pleasant.
In terms of technology, we also have good indicators:
| | |
| --- | --- |
| Domain Name: | GoDaddy.com, LLC, 2019-02-11 - 2020-02-11 |
| Hosting: | Dancom Ltd |
| IP Address: | 190.115.18.179 (live sites on IP: 1) |
| SSL: | GeoTrust EV RSA CA 2018, valid: 15.05.2019 - 14.05.2020 |
| Script: | not determined |
| Originality: | design: 0 | Template: 0 |
As you can see, with 15.05.2019 website "Limpid capital"Got a greenbar, which is a good sign, as it indicates not only the reliable protection of the site, but also that the project has official registration. Of course, we cannot surprise you with this, but I think you will all agree that this is a vivid show of the administration's intentions.
Marketing atLimpid capital", As befits projects of this type (at the stage of partisanism), low-income. I am sure that they will revise it in the future, but for today we have three tariff plans with a deposit term of 100 days and return of the investment body at the end of the term:
«Newcomer"- 0.2% per day with a deposit of $ 20 to 199.99 $;
«Standard"- 0.4% every 24 hours for deposits from $ 200 to $ 1999.99;
«Exclusive"- 0.6% daily profits with a deposit of $ 2000 to $ 4000.
Based on this, the final profit size at the end of the circle will be 20%, 40% eight 60%. When viewed from this angle, the conditions look quite "delicious».
For today "Limpid capital» works with Perfect Money and Payeer. Whether these payment systems will be revised in the future, I do not know. The FAQ section indicates that they will gradually add new ones, so that will be seen there.
I also want to draw your attention to a few facts.:
the minimum withdrawal amount is 0.2 USD;
payments are processed in manual mode with the regulations up to 48 hours from the moment of order;
financial operations are charged a commission of 0.5%.
Affiliates program at "Limpid capital»Three-level with an income of 5% - 3% - 2% from the deposit of your referrals according to their level. In principle, I would say - the standard version of the affiliate program.
Methods of communication with the administration:
I will summarize: The project deserves attention. At least because with such percentages you can work for a very, very long time, and given the development methods, the administrator makes every effort to do this. The same conclusion emerges from the preparation of the site: good design, well-thought-out functionality, greenbar and other little things that accompany a high-quality investment fund have investors to work with "Limpid capital". This, of course, has a positive effect on the climate in the project and increases the chances of successful and fruitful work.
Bonus from me: refback in the amount of 5% of deposit
[$20,$4000,1%,1200%,1200%];[10/09/2019,$20,$4000,1%,500%,500%]
Published: August 30, 2019 in 1: 22