OKPAY
OKPAY is a payment system which is carrying out work on the principle of P2P and B2C. The system provides the user with a wide range of services, ways to recharge, payment and withdrawal of funds entered into the system.
OKPAY, undervalued competitors at the beginning of its existence, quickly became the leader of its niche and began to gnaw way to topu payment systems.
The system supports the payment of the majority of online shops, services and other things, and also serves as the perfect purse for replenishment of investment projects. A huge number of exchangers have included OKPayv your system.
Registration OKPayne cause difficulties.
Go to the main service page https://www.okpay.com/ru/. In the upper right corner, select "open a new account."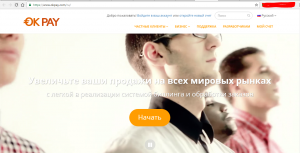 We get to the registration page of the new account.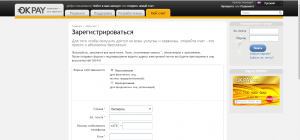 To register, select the type of ownership, country, enter a phone number, email, name, last name, and your password twice. Click on the account opening agreement. Clicking on the link in your mailbox.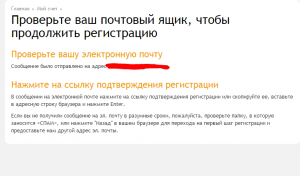 After clicking on the link we get in to the account. The system provides a choice of the type OKPay account: personal and business. Personal account The game is intended for the average user, who is going to pay, transfer, exchange. Business - to receive payments, ideal for shopping, etc.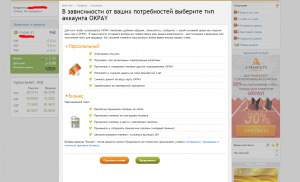 After you select the type of account will be available for most of the functions of the system.
User Control Panel is extremely user-friendly and informative. Here you can either set up an account, and find out the exchange rate and other useful information.
If the need arises in the order of the payment card system, then you have to prove your identity and submit supporting documents, as well as to confirm the phone number.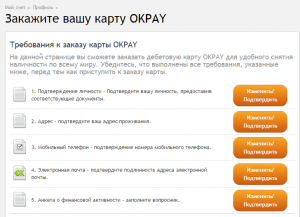 The system is ideal for both beginners and experienced investors. It is difficult to find a more secure international legislation payment system. Transferring money to the system, you can be assured of their anonymity and their safety.