August 30, 2019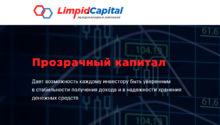 Hello everyone, my dear partners.
I want to introduce you to one of the newcomers to my blog, which I take at the partisan stage, with the prospect of a long and good job. The project "Limpid capital"Promotes a confident and experienced administrator who is well versed in the aspects of the HYIP industry, so I decided that"sin to pass by».
In this article briefly go through the main characteristics project "Limpid capital».