PAYEER
PAYEER - a payment system based in 2012 in Georgia. In just a few years of work were opened representative offices in Russia and the UK.
In 2015, an agreement was reached with Mastercard on the issue of proprietary bank cards Platinum-level.
The system allows you to make payments on proven Internet sites, make payments within the country and abroad. It is also available to accept payments and currency exchange.
Inside Payeer operates online exchanger, which gives the opportunity to exchange banknotes of various electronic payment systems without registration. Recently become available mass payments, including Visa and Mastercard, SWIFT accounts and wallets of other payment systems.
If desired, you can order a plastic card and quietly withdraw money on it with a minimum commission.
The system allows you to create additional accounts, and also provides standard: an account in rubles, an account in Euros and an account in US dollars.
Special attention is given security and verification.
Payeer equipped with several levels of protection required and recommended.
Mandatory levels include:
Identification by e-mail. Mail is sent a temporary password by means of which the one-time login;
Three-digit master PIN, which can not be intercepted and picked up.
Optional items:
Confirmation sms:
Confirmation Telegram (Messager secure encryption).
Proceed to registration:
Registration is fast and easy. No unnecessary movements.
Following links to Russian-language website https://payeer.com/ru/ project. By the way, available Russian, Georgian, Spanish, English and French versions.
Push the words "create a purse." Introduce an electronic box and captcha.
Open letter to take the code and enter in a special field that appears.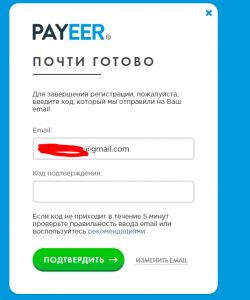 You will see the generated passwords and others that you can keep or change.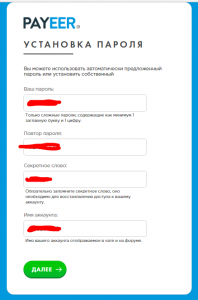 All. Registration is over, you can use it.
You find yourself in the user's office, where you can monitor the presence and amount of money in the accounts, transfer, exchange, display and invest.
To access your e-mail open and ongoing technical support.