"RoboFXTrading" - how much the bot earned me per month.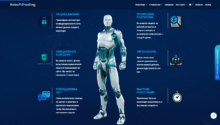 Hi everybody.
A month has passed since I added the project "Robo FX Trading»To your investment portfolio and, of course, to your blog. I think it's time to take intermediate results and tell you what happened new, what are the changes and, most importantly - how much profit per month brought "Robo FX Trading».
So, let's get started.
In short, the project "Robo FX Trading» moving forward very slowly. In principle, I understand this behavior of the administrator, as he clearly has nowhere to rush. Let me remind you that here we are dealing with a real trading bot (as the admin says, and many other facts speak in favor of this), which brings about 5% to 20% of profit per month (read more in the review). In general, everything goes smoothly, slowly and stably.
There are no major changes to the site and marketing. Some things were fixed, a couple of bugs were fixed, and so on.
In my first review, I could not show you what the statistics of transactions conducted by the bot look like, since at that time it was not yet in my account. Today I already have such an opportunity, and I want to show you what trading statistics look like
I'll explain a few important fields in this statistic.:
Robo balance at the time of opening - the sum of all deposits.
Trade deposit - my contribution.
User trade deposit ratio - my contribution divided into the balance of ROBO
Profit ROBO - earnings of the bot from the transaction.
User Profit - my net profit.
I will tell you about the example of the last transaction, how profit is formed:
the amount of all deposits at the time of the transaction is 30124.82 USD, and my deposit is 1000 USD Therefore, my coefficient is 0.0332
bot earned 1.85 $
multiply this amount by my coefficient and get 0.06 $
this amount is divided by 2, since all profits are equally divided between the project and users. We learn 0.03 $
And so with each transaction, of which there can be countless numbers per day.
Now about my earnings for the month. It amounted to 30 dollars, which is equal to 3% of the deposit. It is a lot or a little, everyone judges in his own way. If you compare with HYIPs, then yes, perhaps, not enough. Well, if with bank deposits, then you yourself understand, it's not even bad.
The amount came out still small because I just got to the moment when the bot was seriously bargained. Now he wins back)))) As promised, the loss of the bot did not affect my contribution, but only, for a while, took away my free deposit minus (read the balance).
What else to say, right before the review I ordered a payment on Payeer and it flew instantly, so here everything is as promised. In general, the work goes on as usual - the bot is spinning, the shop is muddling). We follow the development further, we make a profit. In the next report, I think it will be higher
[$, $,%,%,%]; [, $, $,%,%,%]
Published: September 7, 2019 to 2: 15